19 People Shot in New Orleans…Nothing to See Here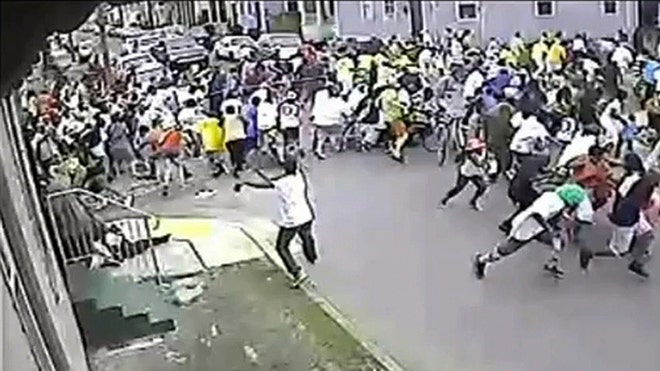 It was all good just A week ago, Sunday started pretty typically in the Big Easy. Jazz cigarettes were lit in Louis Armstrong Park. Moms across the city were being treated to breakfast in bed or brunch out at their favorite cafe. Somewhere, a dude was puffing an L with The Meters or Mystikal as the soundtrack. In my head, I picture Steve Zahn's character from Treme waking up to heaping plate of Cajun Benedict, "Shake Ya Ass" and a baseball-bat spliff.
The Original Big 7 Social Aid and Pleasure Club, a local organization that puts on "second-Line" brass parades, was prepping for a Mother's Day throwdown—a ritual done each year. Nobody thought stray bullets would rain on the parade. A week later, it's barely a footnote in the never-ending torrent of news.
From the NYT:
On Thursday, NOPD arrested and charged the second of two street-gang-member brothers suspected of shooting into a New Orleans parade on Mother's Day and wounding 20 people.
Shawn Scott, 24, was arrested on Thursday, a day after cops captured his 19-year-old brother, Akein. Both have been charged with 20 counts of attempted second-degree murder, New Orleans police said.
"There is no question we believe the Scott brothers came here with a purpose, with a plan," city Police Superintendent Ronal Serpas said at a press conference at the site of the Sunday shooting. "There are people we are sure they wanted to hurt."
The writing on the wall here is painfully clear, written in bubble letters and underscored twice. Since the targets were fellow hustlers, and no YTs were hit with a stray, it was all too easy to sweep under the rug and keep it moving. This was the 7th Ward, not the Beignet-scented French Quarter. Motherfuckers weren't sippin' Chicory-laced coffee. The parade may as well have been in Hamsterdam, a place completely off the map—at least to the mainstream media.

A week after the smoke had cleared, I had to dig fairly deep in the crates to track down the article cited above. Why is this story such a blip on people's radar?
To up the ante of ignorance, some people are attributing the shooting to a culture of violence that surrounds the second-line parades. From the Times:

When shootings like this happened in the past — and they have, sometimes deadly but almost never as brazenly — they often prompted a debate about street culture and violence, about the rolling crowds that form on such occasions and how much they may be to blame for what goes on in their orbit.
That chafes my balls. Luckily, even Mayor Landrieu has shot down those asshats, separating church from state.
Like many other folks (and especially fellow YTs who like to nerd the fuck out), I learned about the second-line, Mardi Gras Indians and parade culture via Treme. The music of The Meters also helped. "Hey Pocky Way" is about a non-confrontational parade of peace. Essentially, good vibes between rival gangs.
Unfortunately, that wasn't the case last weekend. I just wish more people were talking about it. The 7th Ward isn't in the 3rd World.