Wednesday, April 25th, 2012
I don't advocate genocide, but if there is one town in Massachusetts that could use a reset button, it would be Malden.
I mean.. where else would you find a littering event of this nature.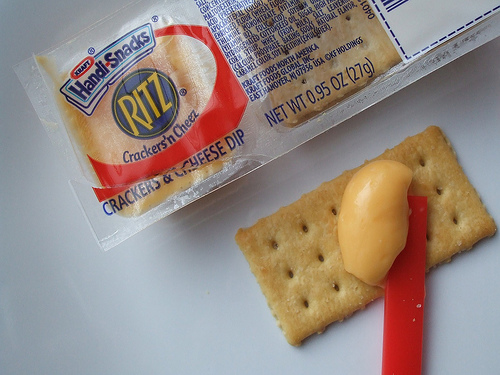 Handi Snacks. We all remember those from when we were kids (or is it kheds?). They were that four cracker combo with that cheeze spread that was applied with a small red piece of plastic. I was a fan. Sure, they are probably loaded with horrific chemicals, but that's not the point of this blog poast. The point is.. well.. let me set the scene.
So I don't normally take the bus, the Rubicon was in the shop yesterday so I needed to. Now as you know the MBTA has some characters within Boston proper – but if you ever take one of these rolling Islands of Dr. Moreau in Malden.. be prepared to witness the absolute cream of the crop of mongoloids. Scabs, herpes, open wounds, drooling mouths, seizures, handicaps, Tammy + Timmy's, scratch ticket stubs, mouth breathing, smells, fungi, boozes, crack, heroin, pills swallows, complainers, shouters, gross "humans" of every size, shape, religion, taliban, and nationality.
Yesterday I was waiting for the 106/108/411/430 to swang down Salem st to give me a lift to the Orange line. It was late as usual, and my phone died so I listlessly began to drink in my surroundings. Dunkin' Donuts, Roast Beef shops, two girls with slicked back greasy dyed blood red hair ripping grits and giggling in their comfortably sized Patriots hoodies – Typical Malden sights and sounds. I sat down on the wall next to my bus stop, looked over and saw the above red handi snack stick sticking out from the ground. Whatever, litter. Gross. But nothing to cause concern..
But then the strangest thing happened after I saw that first stick.. I bent over to tie my shoe, I looked at my feet and saw another one. Then another. Then two next to each other..
I was aghast. "Who is littering these Handi Snack sticks everywhere.. There is literally a garbage can three feet away."
All of a sudden I noticed 5 more next to each other in an untended "tree bed". My vision went dark. Something shut down in my brain and turned back on. When I opened my eyes I could now only see in three colors – Black, White, and Red. It was almost as if I had heat seeking handi-snack stick vision. I noticed more everywhere.. all up and down the sidewalks, in the street, in the driveway next to the stop, on stairs, in other "tree beds".
I counted over 30 before the bus finally came.